The registration and score reporting services on this website will be temporarily unavailable on Tuesday, December 6, 2022, between 7:30 a.m. and 1:30 p.m. Eastern Time, for system maintenance. We apologize for any inconvenience. Online-proctored exams scheduled during this time will not be affected; however, there may be a brief period where appointments may not be started. If you cannot begin your appointment, please wait a short period and then try again.
Assessments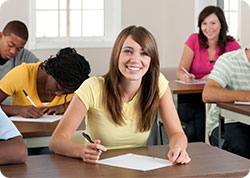 What assessments do I need to take? Testing requirements are dependent on licensure type. Read more about which assessments are required for educator licensure in Ohio.
Passing requirements. The assessments include multiple-choice questions and some also include constructed-response assignments. Passing status is based on a candidate's performance across all sections of an assessment.
Information about each assessment. Get specific information about an assessment, including when and where you can take the assessment, and access preparation materials by selecting the assessment from the following table.